Artists
Egon Schiele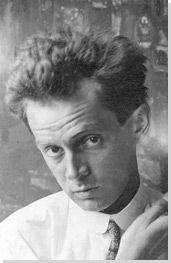 Egon Schiele
Austrian Draftsman, Painter, and Printmaker
Movement: Expressionism
Born: June 12, 1890 - Tuln an de Donau, near Vienna, Austria
Died: October 31, 1918 - Vienna, Austria

"Art cannot be modern. Art is primordially eternal."

Synopsis
With his signature graphic style, embrace of figural distortion, and bold defiance of conventional norms of beauty, Egon Schiele was one of the leading figures of Austrian Expressionism. His portraits and self-portraits, searing explorations of their sitters' psyches and sexuality, are among the most remarkable of the 20th century. The artist, who was astoundingly prolific during his brief career, is famous not only for his psychologically and erotically charged works, but for his intriguing biography: his licentious lifestyle marked by scandal, notoriety, and a tragically early death of influenza at age twenty-eight, three days after the death of his pregnant wife, and at a time when he was on the verge of the commercial success that had eluded him for much of his career.
Key Ideas
Schiele's portraits and self-portraits helped re-establish the vitality of both genres with their unprecedented level of emotional and sexual directness and use of figural distortion in place of conventional notions of beauty. Frequently depicting himself or those close to him, Schiele's portraits often present their sitters in the nude, posed in revealing, unsettling angles—frequently viewed from above—and devoid of secondary attributes often depicted in the portrait genre. At times, Schiele used traditional motifs, giving the intensely personal images a more general, allegorical statement on the human condition.
Creating some three thousand drawings over the course of his brief career, Schiele was both an extraordinarily prolific and unparalleled draughtsman. He regarded drawing as his primary art form, appreciating it for its immediacy of expression, and produced some of the finest examples of drawing in the 20th century. Even his painterly oeuvre revealed a style that captured some of drawing's essential characteristics, with its emphasis on contour, graphic mark, and linearity.
Painter
Gustav Klimt
was the primary influence on Schiele's development, serving as Schiele's friend and mentor. While Schiele inherited Klimt's focus on erotic images of the female form (and shared Klimt's insatiable sexual appetite), the emotionally intense, often unsettling Expressionist idiom Schiele eventually developed, with its investigation of his sitters' inner life and emotional states, in some ways directly opposed his mentor's Art Nouveau–inspired style, with Klimt preferring a more brilliant palette and glimmering, patterned surfaces.
Most Important Art
Self-Portrait (1910)

Schiele's self-portraits are extraordinary not only for the frequency with which the artist depicted himself, but for the manner in which he did so: eroticized depictions where he often appears in the nude, in highly revealing poses—male self-portraits virtually unparalleled in the history of Western art. In this drawing, the artist has created an intense and almost frightening vision of himself: emaciated, with glowing red eyes, legs deformed and footless, his body fully exposed, yet with his face partially hidden, perhaps suggesting a sense of shame, and in a twisting pose indebted, as many writers have suggested, to the important influence of modern dance. Characteristic of the Expressionist mode that Schiele was increasingly practicing at this time, he expresses his anxiety through line and contour, and flesh that appears abraded and subjected to harsh elements.

Read More ...

Egon Schiele Artworks in Focus:
Egon Schiele Overview Continues Below
Biography
Childhood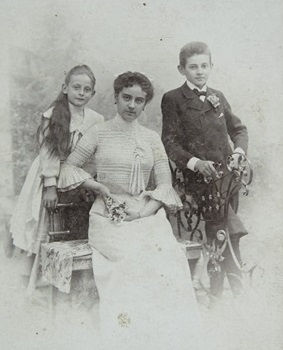 Egon Schiele with his sisters Melanie and Gerti
Egon Schiele was born into modest means in Tulln an der Donau ("on the Danube"), a small but vibrant Austrian town also known as Blumenstadt, or "city of flowers." He was the third child born to Adolf Schiele, who worked as a stationmaster for the Austrian State Railways, and Marie Soukupova, who originally hailed from the Bohemian town of Cesky Krumlov (Krumau), now the site of the Egon Schiele Art Centrum, a museum dedicated primarily to the artist's work. Schiele had two older sisters, Melanie and Gerti (Gertrude), the latter of whom often modeled for Schiele and eventually married Schiele's close friend, the painter Anton Peschka.
Although Schiele was never a prolific student, one of his primary school arts instructors recognized a natural gift for draughtsmanship in Schiele and encouraged him to pursue formal training. Following his father's death from syphilis, and having been placed under the guardianship of his uncle and godfather, Leopold Czihaczek, in 1906 Schiele enrolled in Vienna's Akademie der bildenden Kunste (Academy of Fine Arts), which Gustav Klimt had also attended.
Early Training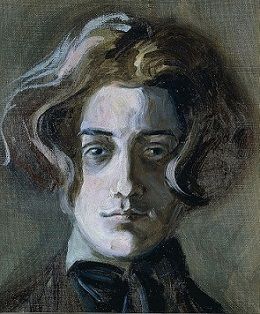 Egon Schiele's Self Portrait with Long Hair (1907)
In 1907, Schiele sought out Klimt, whose work he already greatly admired, and the two quickly formed a mentor-mentee relationship that would have a major impact on the young artist's early development. Klimt not only exerted his influence over Schiele in the studio, but also in introducing Schiele to patrons, models, and the work of other artists—such as Vincent van Gogh, Edvard Munch, and Jan Toorop—about whom Schiele, despite being a devoted art student, had little occasion to learn, given Vienna's relative isolation from European avant-garde movements during this time. Through Klimt, Schiele was also introduced to the Wiener Werkstätte, the arts and crafts workshops of the Vienna Secession, a movement that had close ties to other modern art styles of the period.
In 1908, when Schiele was eighteen, he participated in his first exhibition, a group showing in Klosterneuburg, a small town to the north of Vienna. The following year, Schiele and a few fellow students left the Academy in protest, citing the school's conservative teaching methods and its failure to embrace more forward-thinking artistic practices that were sweeping through Europe. As part of this rebellion, Schiele founded the Neuekunstgruppe (New Art Group), composed of other young, dissatisfied artists defecting from the Academy.
- - - - - - - - - - - - - - - - - - - - - - - - - - - - - - - - - - - - - - - - - - - - - - - - - - -
Egon Schiele Biography Continues

The new group didn't waste any time, holding several public exhibitions throughout Vienna, all the while Schiele was exploring new modes of painterly expression, favoring distortions and jagged contours of form and a more somber palette than that of the more decorative and ornate Art Nouveau style. Essentially, Schiele was gradually distancing himself from the style popularized by Klimt, although the two men would remain close until Klimt's death in early 1918. If the content of Schiele's work is any indication, it appears that the mentor and mentee shared an insatiable appetite for women.
Mature Period
Shortly after forming the Neuekunstgruppe, Schiele began enjoying modest success as a painter and draughtsman, and in 1911 he had his first solo exhibition, at Vienna's Galerie Miethke, where the artist's increasing penchant for self-portraiture and sexualized—often approaching lewd—studies of young women were on display. Schiele's early studies were also controversial for his occasional use of children as nude models; that same year, Schiele lived briefly in his mother's hometown of Krumau in Southern Bohemia, where his practice of having young children visit his studio attracted disapproval from the local townspeople.
The following year was a crucial one for Schiele, both personally and artistically. In addition to participating in a number of group exhibitions—in Budapest, Cologne, and Vienna—Schiele was invited by Galerie Hans Goltz in Munich to show his work alongside members of the Der Blaue Reiter group of Expressionists, which included Wassily Kandinsky, Franz Marc, and Alexej von Jawlensky. Among Schiele's works at this time was his most famous Self-Portrait with Chinese Lantern Plant (1912), a captivating study of the artist, his face and other features replete with lines, scars, and subtle deformities. The Goltz show provided Schiele with his greatest exposure to date, revealing his rich use of personal symbolism and dark allegory to the public.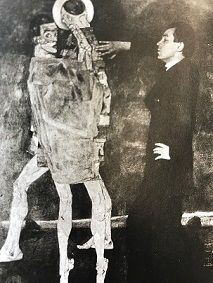 Schiele in front of Encounter - a painting not preserved (1914)
Also in 1912, while living in the Austrian town of Neulengbach, Schiele was arrested at his studio and imprisoned for twenty-four days, accused of seducing and raping an underage girl (as in Krumau, Schiele's workplace had once again become a refuge for many of the town's children, attracting outrage from local residents). These charges were eventually dropped, and he received a lesser charge of creating immoral and "pornographic" drawings of his girlfriend, Wally Neuzil, eighteen years old at the time. Schiele subsequently ceased his practice of using children as models, although the morbidity and sexual explicitness of his work—particularly in his drawings—appears to have increased following his release from prison.
Later Years and Death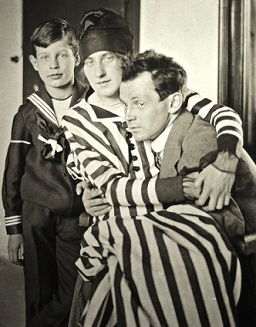 Egon and Edith Schiele with her nephew (1915-16)
Even with the outbreak of World War I, Schiele's artistic output did not change all that drastically. In 1914, the artist enjoyed a very prominent solo show at Vienna's Galerie Guido Arnot, in addition to a number of shows in other cities, and the following year he left Wally Neuzil to marry Edith Harms, a young woman of good social standing. Schiele's new wife evidently had a maturing effect on his work, as seen in pieces like Lovers (1914–15) and Death and the Maiden (1915), which suggest a deeper understanding of and appreciation for narrative and traditional portraiture.
Schiele was eventually conscripted into military service four days after his marriage. However, he never saw any real combat throughout the war's duration, and instead was allowed to continue practicing his art and exhibiting wherever he was stationed. Inspired by his wartime travels, Schiele produced a number of land- and cityscapes around this time, devoid of the artist's usual exaggerated contours.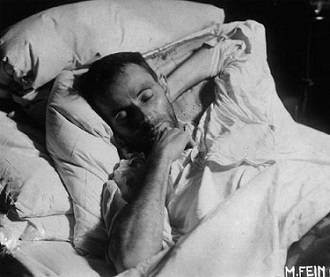 Schiele on his deathbed (1918). Photograph by Martha Fein
By 1917, Schiele was back in Vienna and hard at work. That same year, he and Klimt co-founded the city's Kunsthalle (Art Hall), a new exhibition space designed to encourage Austrian artists to remain in their homeland. The following year, both poignant success and tragedy visited the artist in many forms. In February, a stroke and pneumonia claimed the life of his mentor and friend, Klimt. Just one month later, the Vienna Secession held its forty-ninth annual exhibition and devoted the main exhibition space to Schiele's work, making the affair a great commercial success. In October, his wife, Edith, six months pregnant, succumbed to the Spanish flu pandemic sweeping through Europe at the time, which claimed Schiele's life just three days later, dying at age twenty-eight. In the three days between their respective deaths, Schiele produced a number of sketches of his late wife.
Legacy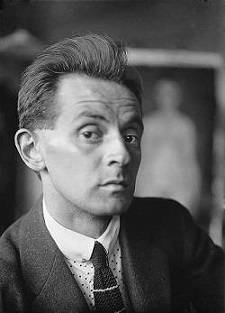 The confident face of Egon Schiele
Despite Egon Schiele's short life, the artist produced an astonishing number of works on canvas and paper. He was instrumental in formulating the character of early-20th-century Expressionism, characterized by the use of irregular contours, an often somber palette, and frequently dark symbolism. Unlike his mentor, Klimt, with whom Schiele's name remains most commonly associated, he produced a great number of self-portraits, suggesting a preoccupation with the self on a par with the likes of Picasso. Schiele's aesthetic greatly influenced both Expressionist contemporaries like Oskar Kokoschka, as well as Neo-Expressionist successors as varied as Francis Bacon, Julian Schnabel, and Jean-Michel Basquiat.
Influences and Connections
Influences on Artist
Artists, Friends, Movements
Influenced by Artist
Artists, Friends, Movements

Interactive chart with Egon Schiele's main influences, and the people and ideas that the artist influenced in turn.
View Influences Chart

Artists

| | |
| --- | --- |
| | Gustav Klimt |
| | Vincent van Gogh |
| | Jan Toorop |
| | Edvard Munch |
| | Wassily Kandinsky |

Personal Contacts

| | |
| --- | --- |
| | Gustav Klimt |
| | Oskar Kokoschka |

Movements

| | |
| --- | --- |
| | Post-Impressionism |
| | Art Nouveau |
| | Symbolism |
| | Expressionism |

Influences on Artist

Egon Schiele
Years Worked: 1907 - 1918
Influenced by Artist

Artists

| | |
| --- | --- |
| | Gunter Brus |
| | Otto Muehl |
| | Francis Bacon |
| | Julian Schnabel |

Personal Contacts

| | |
| --- | --- |
| | Oskar Kokoschka |

Movements

| | |
| --- | --- |
| | Expressionism |
| | Neo-Expressionism |
If you see an error or typo, please:
tell us
Cite this page

Content compiled and written by Justin Wolf
Edited and published by The Art Story Contributors
" Artist Overview and Analysis". [Internet]. . TheArtStory.org
Content compiled and written by Justin Wolf
Edited and published by The Art Story Contributors
Available from:
[Accessed ]
Useful Resources on Egon Schiele
Special Features
Books
Articles
Videos
More
The books and articles below constitute a bibliography of the sources used in the writing of this page. These also suggest some accessible resources for further research, especially ones that can be found and purchased via the internet.
books about schiele
More Interesting Books about Egon Schiele

Egon Schiele $40m Sale Settles Nazi Compensation Case


ArtLyst
June 23, 2011

Schiele and Picasso Draw Interest at London Auctions


By Carol Vogel
The New York Times
June 22, 2011

Egon Schiele: Women – Review


By Jonathan Jones
The Guardian
May 16, 2011

A Schiele Going, A Schiele Staying


By Carol Vogel
The New York Times
May 5, 2011

With the End of a Legal Dispute, a Schiele Comes to Manhattan


By Randy Kennedy
The New York Times
July 29, 2010

Egon Schiele as Printmaker


By Karen Rosenberg
The New York Times
January 8, 2010

The Wider, Not Wilder, Egon Schiele


By Ken Johnson
The New York Times
October 21, 2005
More Interesting Articles about Egon Schiele

in pop culture
Excess & Punishment


This German film from 1980 focuses on Schiele's life and attempts to delve into the psychological and emotional undercurrents that drove his artistic career and precluded his untimely death.

"The Art of New York Fashion Week"


Fashion Designed Isabella Tonchi creates dresses based on motifs by Egon Schiele