Artists
Ed Ruscha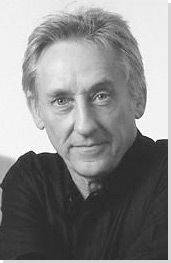 Ed Ruscha
Painter, Photographer, Draughtsman, and Conceptual Artist
Movement: Pop Art
Born: December 16, 1937 - Omaha, Nebraska

"All my artistic response comes from American things, and I guess I've always had a weakness for heroic imagery."

Synopsis
For over 50 years, Ed Ruscha has delivered wryly detached portraits of the ephemera of our lives, found deeply embedded within various subcultures, most notably that of Southern California. Through his lens, familiar imagery such as specific architectural gems, common motifs within consumer culture, or font-specific words elevated as objects are bestowed an iconic status. His fodder is often garnered from the environments in which he lives and works, pulling in a mixed bag of visuals from the film and advertising industries as well as a thriving vortex of trends and memes stemming from an area often noted for being the birthplace of "cool." Ed Ruscha is the quintessential Los Angeles artist whose work catapulted Pop art from a form that merely highlighted the universal ordinary into a form in which the ordinary could now be viewed in relation to its geographically intrinsic cultural contexts. In his hands Pop becomes personal.
Key Ideas
Rather than simply painting a word, Ruscha considered the particular font that might add an elevated emotion to the meaning much like the way a poet considers a phrase. By painting a word as a visual, he felt he was marking it as official, glorifying it as an object rather than a mere piece of text.
Ruscha's skewing of everyday objects with a twist spurs the viewer to look at something ordinary in a new light. This can be seen in his trompe l'oeil word paintings in which oil paint resembles common viscous fluids or, with a touch of humor, in his paintings of LACMA and Norm's - two Los Angeles institutions, both of which he depicts licked with flames.
The ever-present influence of Hollywood and media machines can be seen in the way Ruscha paints his solitary subjects upon the overall space of the canvas plane. Bold, large words or images floating on vast singular backgrounds mimic the opening screens of movies or fleeting glimpses of roadside billboards that must catch an audience's attention in one compelling instant.
Ruscha's homage to the ordinary monuments of our lives, seen all around us but typically relegated to background noise, extends beyond the canvas. As seen with his book Twenty Six Gasoline Stations and others, he offers a deadpan look at the common and humble elements that float on our periphery, presented as a form of simple documentation rather than pristine art subject. This furthers the idea of Pop art as a vehicle for pulling out the mundane from its obscurity within our collective consciousness.
Most Important Art
Boss (1961)

Ruscha claims that Boss was his first mature painting. It was the first of a long series of word paintings where Ruscha created single-canvas works each featuring a word with strong connotations and a powerful visual impact. Later versions included Honk, Smash, Noise, and Oof. Ruscha later stated that the word "boss" "was a powerful word to me, and it meant various things - an employer, and a term for something cool. Also, a brand of work clothes." Ruscha uses this multiplicity of meaning to encourage the viewer to consider all the subconscious connotations of the word. This could be expanded to an exploration of the subconscious meanings hidden in all forms of language. Art historian Margit Rowell argues that looking at Boss is similar to looking at a billboard from a car window, which is not dissimilar from watching the opening screens of a movie.

Ruscha used thick layers of oil paint to create Boss. His use of impasto and dark-brown and black paint gives the word a heavy visual weight as an image-object as well as a linguistic signifier. It also has what Ruscha has called "a certain comedic value," since there is an element of the surreal or the absurd about placing so much emphasis on a commonplace, mundane word. The painting doesn't take itself too seriously, and is playful as well as thought provoking. Ruscha later said of his work, "I'm dead serious about being nonsensical."

Read More ...

Ed Ruscha Artworks in Focus:
Ed Ruscha Overview Continues Below
Biography
Childhood
Ed Ruscha was born in Omaha, Nebraska to a Roman Catholic family that included his father Edward, mother Dorothy and siblings Paul and Shelby. His father worked as an auditor for an insurance company and his job took the family to Oklahoma City, where they lived for 15 years. Although Edward was very religious and strict, Dorothy was a lover of music, literature, and art, and introduced her children to these features of high culture.
Ruscha's artistic talents developed at a young age. He particularly enjoyed drawing cartoons, an interest he maintained for many years. Although his mother supported his decision to apply to art school, Ed's father was unhappy about the idea. Though, when his son gained a place at Chouinard Art Institute in California, he changed his mind because he had read that Walt Disney often offered well-paid jobs to its graduates.
Early Training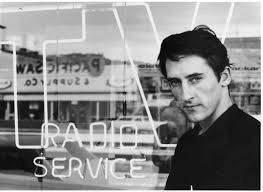 When Ruscha moved to Los Angeles in 1956 to attend Chouinard, (now known as the prestigious California Institute of Arts), he was instantly attracted to the Los Angeles lifestyle. He later recalled, "They had a hot-rod culture here, they had palm trees, they had blonde beach bunnies in the sand. There was progressive jazz happening at the same time. All of that added up to a possibly attractive future." He dove into the lifestyle and got involved in editing and producing "Orb", an art and design journal.
While he was studying in LA, his father died. His mother Dorothy decided that she needed to expand her horizons so after Ruscha graduated, he went on a trip to Europe in the summer of 1961 with his mother and brother. They traveled for four months, buying a small car in Paris and using it to visit countries all over Europe. Ruscha visited museums, but found he wasn't gripped by the art of previous centuries. Instead, when he returned to Paris at the end of the trip, he spent time walking through the streets and painting local signage, such as those above the Metro stations.
- - - - - - - - - - - - - - - - - - - - - - - - - - - - - - - - - - - - - - - - - - - - - - - - - - -
Ed Ruscha Biography Continues

After returning to Los Angeles, he worked for the Carson-Roberts Advertising Agency designing layouts. He also started to pursue his career as an artist seriously at this point. His teachers had trained him to "face the canvas and let it happen, follow your own gestures, let the painting create itself." But he eschewed this direction as well as the prevailing Abstract Expressionism of the time to instead find his own style, which drew on popular culture and his love of the city. He later said, "I could see I was just born for the job, born to watch paint dry."
Mature Period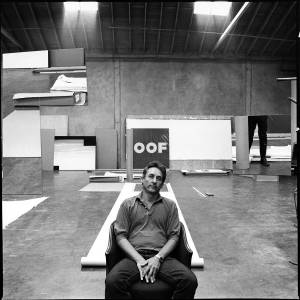 In 1962, Ruscha was invited to show his work as part of the "New Painting of Common Objects" show at the Pasadena Art Museum, curated by Walter Hopps. The show is generally credited as the first museum exhibition in America showing what would later be dubbed Pop art. Ruscha, the youngest artist in the group, showed his work alongside pieces by Roy Lichtenstein, Jim Dine, Joe Goode, Wayne Thiebaud and Andy Warhol.
The following year, Hopps invited Ruscha to put on his first one-man show at his commercial gallery, the Ferus Gallery, where Andy Warhol had presented his first solo show in 1960. The show was a success and Ruscha sold six paintings. The same year, Hopps organized a large Marcel Duchamp retrospective, an artist who had greatly inspired Ruscha's thinking. Ruscha attended the opening of the exhibition, and had the opportunity to meet Duchamp in person, an experience he greatly valued.
In 1965, Ruscha met his future wife, Danna, an animator for Hanna-Barbera. Described by friends as being vivacious with a warm smile, Danna married Ruscha in 1967. Their son was born the following year, and was named Eddie after his father. During this period, Ruscha was also earning money from working as a layout designer for the magazine Artforum, but he used the pseudonym Eddie Russia to submit his work.
Ruscha was a childhood friend of guitarist Mason Williams, and the pair remained close throughout their lives. In 1968, Ruscha was asked to paint an image for the cover of Williams' record Music. The credit on the album took an ironically apologetic tone: "Sorry, cover by Edward Ruscha". Living in Hollywood, Ruscha inevitably got to know several actors and filmmakers. For example, the comedian Steve Martin's first significant art purchase was a print by Ruscha, which he bought in 1968 for $125. A few years later, Martin decided to see how much he could sell it for and a dealer told him: $625. This experience and a love of contemporary art inspired him to start a large collection, which heavily featured Ruscha's work, and the pair became friendly.
In the early 1970s, Ruscha experienced a crisis of confidence in his painting. In 1972 he was recorded as saying, "I can't bring myself to put paint on canvas. I find no message there anymore." That same year, Ruscha separated from his wife and the couple eventually got divorced. Ruscha's interest in painting revived soon after, and he subsequently had several relationships with other women. He dated models such as Lauren Hutton and Leon Bing, and had a long relationship with actress Samantha Egger, with whom he lived in the early 1980s. Later in the decade, he met up with his ex-wife Danna again, and the couple rekindled their relationship. They decided to get married once more in 1988, choosing the chapel in Las Vegas that they had used for their first wedding.
Ruscha's first major retrospective was held in 1982 at the San Francisco Museum of Modern Art. For the exhibition catalogue cover, he chose a drawing made in 1979, which features the words "I don't want no retro spective". Ruscha's work became popular with Japanese collectors entering the contemporary art market in the late 1980s, suddenly driving up demand for his work. He later joked that he had become a "twenty-five year overnight sensation."
Current Practice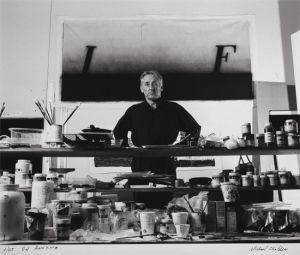 Ruscha continued to produce work on a prolific scale throughout the 1990s and early 2000s. When his original dealer Leo Castelli died in 1997, Ruscha was taken on by art-world mogul Larry Gagosian. This catapulted his reputation, as an important international artist outside of Los Angeles, made evident by his inclusion in the 2005 Venice Biennale, where he showed his Course of Empire, a series of ten large-scale paintings. This increased fame coincided with a resurgence of international interest in Los Angeles as a major center for the art world.
Ruscha continues to work two or three days a week in a concrete-built house in the California desert, which he had designed by Frank Gehry in 1976. He describes the house as "pretty remote - a three-hour drive, and the only other house out there is a mile away."
Legacy
Ed Ruscha is now seen as a Made in L.A. artist, with his borrowing from popular culture and his evocation of the landscapes of the city and its surroundings. Working as part of the Pop art movement, his work was to influence a younger generation of artists, particularly Neo-Pop artists such as Jeff Koons. Furthermore, Ruscha's creation of canvases featuring single words were to influence other artists such as Martin Creed, whose text-based projects have a similar impact. His work also has a lot in common with conceptual text-based practices developed in the 1960s by artists such as Lawrence Wiener and Joseph Kosuth.
Ruscha's artist books, such as his Twentysix Gasoline Stations (1962), have also been highly influential. Artists have responded to his books on an international scale over the last 60 years, including Bruce Nauman, whose Burning Small Fires (1968) consisted of a series of photographs of the artist burning a copy of Ed Ruscha's artist book Various Small Fires and Milk (1964).
Influences and Connections
Influences on Artist
Artists, Friends, Movements
Influenced by Artist
Artists, Friends, Movements

Interactive chart with Ed Ruscha's main influences, and the people and ideas that the artist influenced in turn.
View Influences Chart

Artists

| | |
| --- | --- |
| | Jasper Johns |
| | Robert Rauschenberg |
| | Marcel Duchamp |

Personal Contacts

Movements

| | |
| --- | --- |
| | Surrealism |
| | Dada |

Influences on Artist

Ed Ruscha
Years Worked: 1950s-2000s
Influenced by Artist

Artists

| | |
| --- | --- |
| | Lawrence Weiner |
| | Joseph Kosuth |
| | Jeff Koons |

Personal Contacts

Movements

| | |
| --- | --- |
| | Pop Art |
| | Conceptual Art |
If you see an error or typo, please:
tell us
Cite this page

Content compiled and written by Anna Souter
Edited and revised, with Synopsis and Key Ideas added by Kimberly Nichols
" Artist Overview and Analysis". [Internet]. . TheArtStory.org
Content compiled and written by Anna Souter
Edited and revised, with Synopsis and Key Ideas added by Kimberly Nichols
Available from:
[Accessed ]
Useful Resources on Ed Ruscha