Artists
Leonor Fini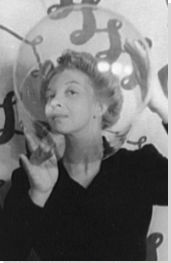 Leonor Fini
Italian Surrealist Painter, Designer, Illustrator, and Author
Movements and Styles: Surrealism, Magic Realism, Symbolism
Born: August 30, 1907 - Buenos Aires, Argentina
Died: January 18, 1996 - Paris, France
"I have always loved, and lived, my own theatre."

Synopsis
Throughout a long career, the canvases of Leonor Fini's journey between the pains of despair and the serenity of enlightenment but remain polished with eroticism at every extreme. Driven by passion, liberty, and sexual experimentation, she was arguably the most rebellious, theatrical, and autonomous of the female Surrealists. Described by many to be particularly tall and commanding in physical appearance with very unusual cat-like eyes, in many ways she was more creaturely than human. Taking the artistic interest in the motif of an animal/human hybrid somewhat literally, she stood as an embodiment of feline transformation and metamorphosis, and came to accurately identify herself with the ancient figure of a Sphinx. Deadly in Greek tradition, whilst benevolent but ferocious in Egyptian stories, the appearance of the mythical creature is symbolic of Fini's love for artifice and nature combined.

Although she exhibited with the Surrealists, Fini's staunch individuality was often at odds with the collective ideas of the group. Unlike many women who became central to the movement, she was not impressed by the charisma and intellectualism of male members. Already well read and versed in psychoanalytic theory, Fini refused to be submissive or subordinate to men. She formed an intense friendship with Leonora Carrington in the summer before the onset of World War II, but in general did not draw upon the support of other women in the way that Carrington and Remedios Varo did. She lived more flamboyantly and communally and always with two men, one as her lover and one as her friend.
Key Ideas
Brought up in Italy, Fini studied
Renaissance
and
Mannerist
painting, and while rejecting earlier artistic qualities of balance, proportion, and ideal beauty she instead exaggerated and elongated limbs and facial features in her portraits and conjured the same unsettling instability and tension encountered in 16
th
century Mannerist canvases. It is remarkable that Fini had no formal artistic training, as she was technically impeccably skilled.
The artist lived a life directed by unrestrained passion and desire. Unlike Dorothea Tanning who explored early childhood encounters with sensuality, Fini explored uncensored adult eroticism. She enjoyed fantasy and role-play; she would often wear masks, dress in men's clothes (including priestly robes), and deliberately tear her own outfits. Along with the Czech Surrealist, Toyen, Fini was the only woman to directly illustrate some of the 19
th
century sexual revolutionary and pornographer's writing, that of the
Marquis de Sade
.
Fini was utterly fascinated by death and since the age of thirteen had regularly visited the morgue in Trieste. She spent hours studying and drawing both adorned and untouched corpses. Whilst the likes of
Georges Bataille
and
André Masson
theorized such underbelly interests and formally defined them as 'base materialism', the importance of living surrounded by one's own mortality was for Fini, as well as for
Frida Kahlo
, Carrington, and Remedios Varo, simply an individual reality which they had all reached intuitively.
Fini mourns 'infertility' in her paintings, a theme shared with Kahlo and the two have motifs in common. However, for Fini, the decision not to have children was absolute and voluntary (by hysterectomy) and as such she does not explore notions of 'maternity' in the same way as Kahlo, Carrington, Varo, and
Dorothea Tanning
. She does though reveal an eternal love for cats (a lot like Tanning's connection to small dogs), exposing her need for attachment, and at the same time making a statement on the combined civilized and beastly nature of human beings.
Most Important Art
Self Portrait with Scorpion (1938)

In this relatively early self-portrait, Fini confronts the viewer with a direct stare and reveals a hidden scorpion beneath a single glove (a commonly recurring motif within the Surrealist oeuvre). Although on first glance the woman appears feminine and attractive, a closer look uncovers the predatory and venomous creature as well as tears in an apparently traditional blouse and skirt. Fini was known to intentionally rip outfits with the suggestion of clothes torn in passion, especially when a trace of red is revealed beneath the folds of fabric. Perhaps this is a vaginal metaphor, an invitation to pleasure with a simultaneous warning. The blouse could also make reference to the structure of the scorpion's armored abdomen and as such introduces the theme of metamorphosis from human to animal to which Fini will often return.

As a self-taught artist, Fini's works reflect influence from multiple sources. She was inspired by the Romantics, by the Pre-Raphaelites, by the Flemish masters including Hieronymus Bosch, by elongation techniques of the Italian Mannerists, by Symbolist painters, and by the Surrealist environment she found herself an integral part of. She also found inspiration in her dreams. The scorpion here could be interpreted as a symbol of feminine power, in a similar way that the spider is used by Louise Bourgeois decades later. The art historian, Mathew Gale claims that "Fini located herself within a specifically female hermetic tradition of an originary and powerful Great Goddess", emphasizing the qualities of the powerful female in which her work is rooted."

Sexually charged and encouraging the viewer to look beyond the surface to the layers beneath, the painting bears parallel to many other Surrealist works. With traces of a bodily interior exposed from above one is reminded of Fur Teacup by Meret Oppenheim (1936), and equally of Oppenheim's work in general, often re-imagining the glove and imbuing her objects with a creaturely life. Dorothea Tanning also used the folds of fabric to hint towards sexual experience, and this idea has since been taken further in the psychologically challenging fabric sculptures of Louise Bourgeois.

Read More ...

Leonor Fini Artworks in Focus:
Leonor Fini Overview Continues Below
Biography
Childhood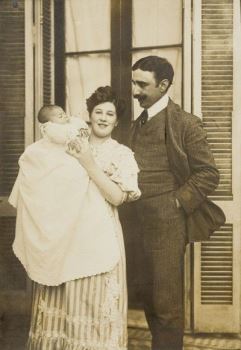 The baby Leonor Fini with her parents in Argentina (1907)
Leonor Fini, originally called Eleonora, was born in Buenos Aires in 1907. Her Italian mother Malvina, married Herminio Fini, a wealthy businessman also of Italian background, and together they moved to Argentina. The two separated when Fini was just a baby and Malvina quickly moved back home to Trieste in Italy with her daughter. Raised entirely by her independent mother, Fini experienced a free and bohemian lifestyle from an early age. The separation between the artist's parents was not simple; Herminio fought for the custody of Fini and once tried to kidnap her. As result, Fini spent some of her childhood years disguised as a boy, likely initiating a lifelong fascination for dressing up.
Education and Early training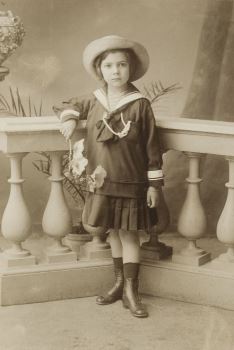 Leonor Fini when she was six years old, in Trieste, Italy (c. 1913)
During her youth, Fini had a profoundly rebellious spirit, and was expelled from multiple schools for a lack of ability to adhere to the 'rules'. From a very young age she developed a fascination with drawing as a means to understand the world around her. She loved making visits to the local morgue, where she sketched the cadavers in her own alternative, self-directed anatomy sessions. Aside from these efforts, Fini did not have any formal artistic training and was completely self-taught. She learnt about art by drawing, reading books that she found in her uncle's library, and from countless visits to museums during her travels throughout Europe. She was particularly captivated by the old masters.
During her teenage years, Fini suffered from rheumatic conjunctivitis, which forced her to have her eyes bandaged and to live in total darkness for two months. She later recalls that this experience really helped to develop her imagination and to conceive complex visual imagery in her mind. The need to bandage her eyes may also have also inspired a later love of being masked. By the age of seventeen, Fini was already exhibiting her portraits in Trieste, and frequenting the artistic and literary circles of the town, where she was generally considered highly intelligent (she had read Freud before she turned sixteen) and sensitive.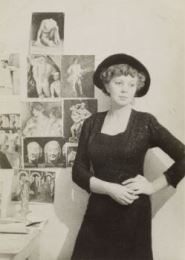 Leonor Fini when she was 21, Trieste, Italy (c. 1928)
In 1931, she moved briefly to Milan and then to Paris where she became acquainted with Carlos Carrà and Giorgio de Chirico; both became profound influences on the aspiring young artist. By this point, Fini was an ambitious 24 year old, with, as art critic Sarah Kent writes, "a gift for friendship - people loved her warmth, intelligence, and beauty". It was at this time that she met Max Ernst, who became her lover and introduced her to the Surrealists, including Man Ray, Salvador Dali, and Henri Cartier-Bresson along with many other painters and writers of the group.
- - - - - - - - - - - - - - - - - - - - - - - - - - - - - - - - - - - - - - - - - - - - - - - - - - -
Leonor Fini Biography Continues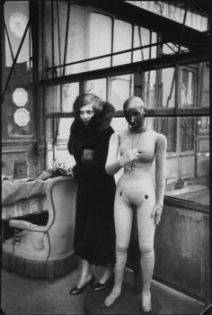 Leonor Fini in Paris, photographed by Henri Cartier-Bresson, a notorious French photographer known for his humanist approach and for capturing decisive moments of life. (1932)
Fini quickly became an integral part of the Parisian art scene and social circles. She became known for her eccentricity, flamboyant personality, and particularly theatrical ways of dressing. Art critic Sarah Kent says, "She would dye her hair blue, orange, red or gold and attend private views and parties dressed as a man, or wearing nothing but white boots and a cape of white feathers". During this time, she was also exhibiting her work in Parisian art galleries - one of her first exhibitions was at Christian Dior's gallery that was run by Dior before he became an acclaimed fashion designer.
Mature Period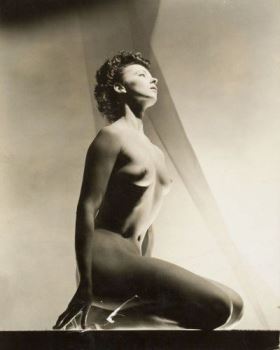 Leonor Fini photographed by Georges Platt Lynes, an American fashion photographer, when she was in New York for a collective exhibition (1936)
Upon invitation by Julien Levy, the renowned American art dealer, Fini participated in a collective exhibition in New York in 1936, along with fellow surrealist European and American painters including Max Ernst, Joseph Cornell, and Pavel Tchelitchew. Although her works were constantly featured alongside those of the Surrealists, she never became a formal member of the group, always preferring to remain an independent artist. In 1936, Fini moved from Italy to France and soon after met Carrington who had moved to Paris in 1937 (having become the girlfriend of Ernst some years after Fini had been his lover). The two women were like-minded in many ways and spent an intense summer in the French countryside together in the months before the announcement of World War II.
Throughout this time, Fini also worked as an accomplished portraitist (painting portraits of many celebrities and visitors to Paris, and especially of her friends including writer Jean Genet, actress Maria Casarès, ballerina Margot Fonteyn, and the socialite Hélène Rochas) as well as an illustrator, illustrating Edgar Allen Poe and Shakespeare, and often donating her drawings to new emerging writers. Besides being generous, she was talented, glamorous, and often perceived as being profoundly controversial. Art critic Catherine Styles McLeod describes her as "magnificent, perturbing, mocking enigmatic, terrible, and compassionate". Art critic Joseph Nechvatal further enhances her colorful existence in that he writes, "her wild lifestyle, open bisexuality, and infamous ménage à trois relationships shocked even the Parisian café society".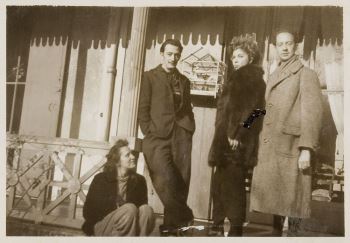 Gala and Salvator Dalì, Leonor Fini and André Pieyre de Mandiargues, photographed by Stanislao Lepri, Fini's lover (1940). The photograph captures the friends on holidays in Arcachon, a seaside resort in southwest France.
Fini spent the war years in Monte Carlo and Rome, continuing both her portraits and her 'surreal' works with signature erotic, Gothic, and Mannerist qualities. It was in Rome that she met the Italian Count Stanislao Lepri, who swiftly abandoned a prodigious diplomatic career for a creative and experimental life by Fini's side. The couple returned to Paris in 1946, where they lived together with lots of Persian cats. It is said that at one point, Fini owned 23 cats, that all shared her bed and ate at the dinner table, whether there were guests or not.
Late Period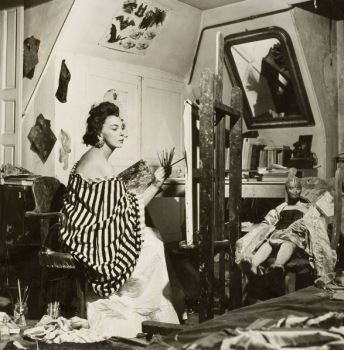 Leonor Fini in her studio in Rue Payenne, Paris (1952)
Between 1946 and 1953, Fini had a very active social life and remained an influential and central figure of the high society, attending countless masked balls, always making the magazine headlines afterwards for her exuberant outfits. In 1952, she met the Polish writer, Konstanty Jelenski, known as Kot, who moved in with her and Lepri in Paris; the three remained inseparable until their deaths.
At age of 45, Fini was painting prolifically and had also immersed herself in other creative endeavors. Her passion for extravagant masks and drama led her to doing some stage, costume, and poster design for various theatres and opera houses, including the Paris Opera and the Metropolitan Opera Association. Fini also designed the costumes for Frederico Fellini's movie 8 ½ in 1963, and in 1972 she designed Brigitte Bardot's costume for the Rothschilds' Ball.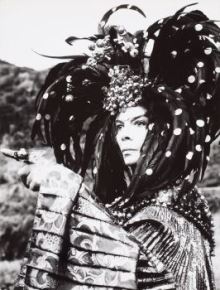 Leonor at the monastery of Nonza, Corse, photograph (detail) by Eddy Brofferio (1967)
During the 1960's, Fini was often photographed by her friend Eddy Brofferio, sometimes at the monastery of Nonza on the island of La Corse where she spent recurrent holidays. Typically in full-feathered headdresses and elaborate costumes, these dramatic pictures reveal Fini's continuing exuberant and performative lifestyle. In the company of Kot and Lepri, the artist continued living in her Parisian apartment, painting surrounded by her cats. Still active and painting well into her 80s, she died in 1996 at the age of 89.
Legacy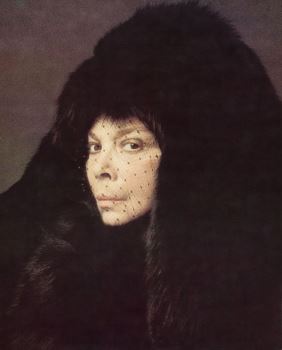 Leonor Fini portrait, Paris, photograph by Eddy Brofferio, (1975)
Leonor Fini was befriended by the whole Parisian artistic community and was one of the most photographed people of the 20th century, resulting in the legacy of "queen of the Paris art world" (expression coined by art critic Sarah Kent). Her popularity in artistic social circles made her the subject of many poems, artworks, and photographs by various artists and writers of her time, including Man Ray, Lee Miller, Cecil Beaton, and Henri Cartier-Bresson. Besides this social popularity, due to her recurrent depiction of empowered woman, Fini is generally considered a great contributor to the feminist movement, being perceived as a female icon and described as a 'libertine'. Based on her work alone, Fini has been described as a European Frida Kahlo, and as a 'female Dali;'.
Sadly, her eccentric lifestyle, open sexuality, and bohemian Parisian society life has diverted attention away from her artwork. As such, the Art Dealers Association of America considers her "the most undervalued artist of the 20th Century". A view seconded by art critic Joseph Nechvatal who claims that since her Parisian popularity that she has been "sliding ever since toward obscurity".
She was a painter, performer, designer, feminist, and mystic, who refused to be labeled or categorized (even as Surrealist). She questioned pre-established beliefs and pushed limits, even those of the open minded. She exhibited a freedom of approach, which resulted in powerful self-expression and collective female empowerment. As such her influence is felt powerfully among young and emerging female artists, shown particularly by the Dreamers Awake (2017) exhibition in London that showcased the work of artists influenced by the 'female Surrealists'. Art historian Mathew Gale writes: "Leonor Fini is remembered for the exoticism of her imagery and her challenges to conventions".
Influences and Connections
Influences on artist
Artists, Friends, Movements
Influenced by artist
Artists, Friends, Movements

Interactive chart with Leonor Fini's main influences, and the people and ideas that the artist influenced in turn.
- - - - - - - - - - - - - - - - - - - - - - - - - - - - - - - - - - - - - - - - - - - - - - - - - - - - - - - - - - - - - - - - - - - - - - - - -
View Influences Chart

Artists

| | |
| --- | --- |
| | Carlos Carrà |
| | Giorgio de Chirico |
| | Meret Oppenheim |
| | Jean Cocteau |
| | Salvador Dalí |

Friends

| | |
| --- | --- |
| | Max Ernst |
| | Leonora Carrington |
| | Balthus |
| | Dora Maar |
| | Eddy Brofferio |

Movements

| | |
| --- | --- |
| | Surrealism |
| | Symbolism |

Leonor Fini
Years Worked: 1972 - 1996
Artists

| | |
| --- | --- |
| | Richard Overstreet |
| | Sarah Lucas |
| | Louise Bourgeois |
| | Kiki Smith |

Friends

| | |
| --- | --- |
| | Leonora Carrington |

Movements

| | |
| --- | --- |
| | Symbolism |
| | Surrealism |
If you see an error or typo, please:
tell us
Cite this page

Content compiled and written by Sarah Frances Dias
Edited and revised, with Synopsis and Key Ideas added by Dr Rebecca Baillie
" Artist Overview and Analysis". [Internet]. . TheArtStory.org
Content compiled and written by Sarah Frances Dias
Edited and revised, with Synopsis and Key Ideas added by Dr Rebecca Baillie
Available from:
[Accessed ]
Useful Resources on Leonor Fini