Artists
Jean-Michel Basquiat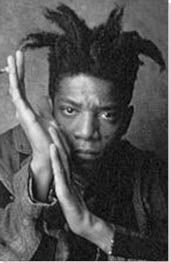 Jean-Michel Basquiat
American Painter
Movement: Neo-Expressionism
Born: December 22, 1960 - Brooklyn, New York
Died: August 12, 1988 - New York, New York, USA

"Believe it or not, I can actually draw."

Synopsis
Jean-Michel Basquiat emerged from the "Punk" scene in New York as a gritty, street-smart graffiti artist who successfully crossed over from his "downtown" origins to the international art gallery circuit. In a few fast-paced years, Basquiat swiftly rose to become one of the most celebrated, and possibly most commercially exploited American "naif" painters of the widely celebrated Neo-Expressionism art movement.
Key Ideas
Basquiat's work is one of the few examples of how an early 1980s American Punk, or graffiti-based and counter-cultural practice could become a fully recognized, critically embraced and popularly celebrated artistic phenomenon, indeed not unlike the rise of American Hip Hop during the same era.
Despite his work's "unstudied" appearance, Basquiat very skillfully and purposefully brought together in his art a host of disparate traditions, practices, and styles to create a unique kind of visual collage, one deriving, in part, from his urban origins, and in another a more distant, African-Caribbean heritage.
For some critics, Basquiat's swift rise to fame and equally swift and tragic death by drug overdose epitomizes and personifies the overly commercial, hyped up international art scene of the mid 1980s, a cultural phenomenon that for many observers was symptomatic of the largely artificial bubble economy of the era.
Basquiat's work is an example of how American artists of the 1980s could reintroduce the human figure in their work after the wide success of
Minimalism
and Conceptualism, thus establishing a dialogue with the more distant tradition of 1950s
Abstract Expressionism
.
Most Important Art
Untitled (1982)

Like a page pulled cleanly from a daily artist's journal, this untitled canvas features Basquiat's personal iconography, some reminiscent of that of Paul Klee. Boldy appropriating images commonly associated with African art - a skull, a bone, an arrow - Basquiat modernizes them with his Neo-Expressionist style of thickly applied paint, rapidly rendered subjects, and scrawled linear characters, all of which float loosely across the pictorial field, as though hallucinatory. A white skull juts from the center of the ebony composition, vividly recalling a revered painter's tradition of the memento mori - a reminder of the ephemeral nature of all life and the body's eventual, merciless degeneration. Basquiat demonstrates in one concise "study" how he is able to carry on an ancient practice of painting "still life", all the while suggesting, as does a great jazz musician, that the artist's work was relatively effortless, if not completely improvisatory.

Read More ...

Jean-Michel Basquiat Artworks in Focus:
Jean-Michel Basquiat Overview Continues Below
Biography
Childhood
Jean-Michel Basquiat was born in Brooklyn, New York, in 1960. His mother was of Puerto Rican heritage, and his father a Haitian immigrant, the combination of which eventually led to the young Jean-Michel's fluency in French, Spanish, and English (indeed, early readings of French symbolist poetry would come to influence Basquiat's later work). Basquiat displayed a talent for art in early childhood, learning to draw and paint with his mother's encouragement. Together they attended New York City museum exhibitions, and by the age of six, Jean-Michel found himself already enrolled as a Junior Member of the Brooklyn Museum.
After being hit by a car as a young child, Basquiat underwent surgery for the removal of his spleen, an event that led to his reading the famous medical and artistic treatise, Gray's Anatomy (Originally published in 1858). The sinewy bio-mechanical images of this text, along with those equally linear personages that Basquiat enjoyed in popular graphic novels, would one day come to inform his mature, graffiti-inscribed canvases.
After his parents' divorce, Basquiat lived alone with his father, his mother having been determined unfit to care for him owing to mental instability. Claiming physical and emotional abuse, Basquiat eventually ran away from home and was adopted by a friend's family. Although he attended school sporadically in New York and Puerto Rico, he finally dropped out of Edward R. Murrow High School, in Brooklyn, in September 1978, at the age of 17.
Early Training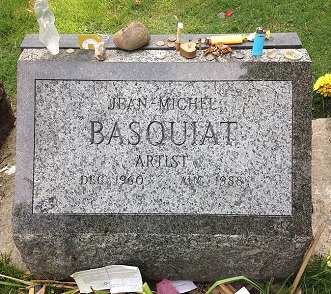 Basquiat's art was fundamentally rooted in the 1970s, New York City-based graffiti movement. In 1972, he and an artist friend, Al Diaz, started spray-painting buildings in Lower Manhattan under the nom de plume, SAMO, an acronym for "Same Old Shit". With its anti-establishment, anti-religion, anti-politics credo packaged in an ultra-contemporary format, SAMO soon received media attention from the counter-culture press, the Village Voice the most notable among them. When Basquiat and Diaz had a falling out, Basquiat ended the project with the terse message: SAMO IS DEAD, which appeared on the facade of many SoHo art galleries and downtown buildings. After taking note of the mantra, contemporary street artist, Keith Haring, staged a mock wake for SAMO at his Club 57. Homeless and sleeping on park benches, Basquiat supported himself by panhandling, dealing drugs, and peddling hand-painted postcards and T-shirts.
- - - - - - - - - - - - - - - - - - - - - - - - - - - - - - - - - - - - - - - - - - - - - - - - - - -
Jean-Michel Basquiat Biography Continues

Basquiat frequented the Mudd Club and Club 57-both teeming with New York City's artistic elite. During his stint as a punk rocker, he appeared as a nightclub DJ in the Blondie music video, Rapture. After inclusion of his work in the historic, punk-art Times Square Show of June 1980, Basquiat had his first solo exhibition at the Annina Nosei Gallery, in SoHo (1982). Basquiat's rise to wider recognition coincided with the arrival, in New York, of the German Neo-Expressionist movement, which provided a congenial forum for his own street-smart, curbside expressionism. Basquiat began exhibiting regularly with artists like Julian Schnabel and David Salle, all of whom were reacting, to one or another degree, against the recent historical dominance of Conceptualism and Minimalism. Neo-Expressionism marked the return of painting and the re-emergence of the human figure. Images of the African Diaspora and classic Americana punctuated Basquiat's work at this time, some of which was featured at the prestigious Mary Boone Gallery in solo shows in the mid 1980s (Basquiat was later represented by art dealer and gallerist Larry Gagosian in Los Angeles). Rene Ricard's Artforum article, "The Radiant Child", of December 1981, virtually solidified Basquiat's position as a formidable figure in the greater art world.
Mature Period
1982 was a banner year for Basquait, as he opened six solo shows in cities worldwide and became the youngest artist ever to be included in Documenta, the international contemporary art extravaganza held every five years in Kassel, Germany. During this time, Basquiat created some 200 art works and developed a signature motif: a heroic, crowned black oracle figure. Dizzy Gillespie, Sugar Ray Robinson, and Muhammad Ali were among Basquiat's inspirational precursors; sketchy and Neo-Expressionist in appearance, the portraits captured the essence rather than the physical likeness of their subjects. The ferocity of Basquiat's technique, those slashes of paint and dynamic dashes of line, presumably revealed his subjects' inner-self, their hidden feelings, and their deepest desires. In keeping with a wider Black Renaissance in the New York art world of the same era (such as with the new, widespread attention at the time being given Faith Ringgold and Jacob Lawrence), another epic figure, the West African griot, also features heavily in Basquiat's work of the Neo-Expressionist era. The griot propagated community history in West African culture through storytelling and song, and he is typically depicted by Basquiat with a grimace and squinting elliptical eyes, their gaze fixed securely on the observer.
By the early 1980s, Basquiat had befriended Pop artist Andy Warhol, with whom he collaborated on a series of works from 1984 to 1986, such as Ten Punching Bags (Last Supper) (1985-86). Warhol would often paint first, then Basquiat would layer over his work. In 1985, a New York Times Magazine feature article declared Basquiat the hot young American artist of the 1980s. At the same time, Basquiat was unfortunately becoming increasingly addicted to heroin and cocaine, which untimely led to his tragic death in 1988 at the age of 27.
Legacy
In his short and largely troubled life, Jean-Michel Basquiat nonetheless came to play an important and historic role in the rise of Punk Art and Neo-Expressionism in the New York art scene. While the larger public latched on to the superficial exoticism of his work and were captivated by his overnight celebrity, his art, often described inaccurately as "naif" and "ethnically gritty", held important connections to expressive precursors, such as Jean Dubuffet and Cy Twombly.
A product of the hyped-up 1980s, Basquiat and his work continue to serve for many observers as a metaphor for the dangers of artistic and social excess. Like a superhero of a graphic novel, Basquiat seemed to rocket to fame and riches, and then, just as speedily, fall back to Earth, the victim of drug abuse and eventual overdose.
The recipient of posthumous retrospectives at the Brooklyn Museum (2005) and the Whitney Museum of American Art (1992), as well as the subject of numerous biographies and documentaries, including Jean-Michel Basquiat: The Radiant Child (2010; Tamra Davis, Dir.), and Julian Schnabel's feature film, Basquiat (1996; starring former friend David Bowie as Andy Warhol), Basquiat and his counter-cultural example persist. His art remains a constant source of inspiration for contemporary artists, his short, but seemingly epic life a constant source of intrigue for a global art-loving public.
Influences and Connections
Influences on artist
Artists, Friends, Movements
Influenced by artist
Artists, Friends, Movements

Interactive chart with Jean-Michel Basquiat's main influences, and the people and ideas that the artist influenced in turn.
- - - - - - - - - - - - - - - - - - - - - - - - - - - - - - - - - - - - - - - - - - - - - - - - - - - - - - - - - - - - - - - - - - - - - - - - -
View Influences Chart

Artists

| | |
| --- | --- |
| | Jean Dubuffet |
| | Robert Rauschenberg |
| | Cy Twombly |

Friends

| | |
| --- | --- |
| | Andy Warhol |
| | Keith Haring |

Movements

| | |
| --- | --- |
| | Pop Art |
| | Expressionism |

Jean-Michel Basquiat
Years Worked: 1977 - 1988
Artists

| | |
| --- | --- |
| | Julian Schnabel |
| | Francesco Clemente |

Friends

| | |
| --- | --- |
| | Andy Warhol |
| | Keith Haring |

Movements

| | |
| --- | --- |
| | Graffiti Art |
| | Neo-Expressionism |
If you see an error or typo, please:
tell us
Cite this page

Content compiled and written by Bonnie Rosenberg
Edited and published by The Art Story Contributors
" Artist Overview and Analysis". [Internet]. . TheArtStory.org
Content compiled and written by Bonnie Rosenberg
Edited and published by The Art Story Contributors
Available from:
[Accessed ]
Useful Resources on Jean-Michel Basquiat